WAHL 5-Star FINALE Shaver Cord/Cordless Bump Free 120V-240V - FREE Priority Ship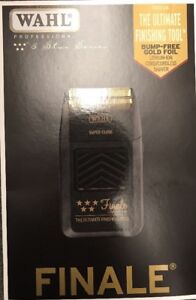 ---
Brand New!
WAHL PROFRESSIONAL
CORDLESS SHAVER FINALE #8164
5-Star Series . CORD/CORDLESS Shaver Shaper . Lithium Ion . BUMP FREE Shaver
Rotary Motor . Up to 90 mins Run-time . Special angles Shaver Head . GOLD Hypo-allergenic Foil
FREE PRIORITY SHIPPING
Designed for perfect to finish, blend bald fades. Cleaning up hair and neck lines for an ultra smooth finish. Eliminate stray hairs. BUMP-FREE Shaving.
Special angled shaver head with gold hypoallergenic foil.
Recharge in stand or directly in unit.
Rotary Motor.
Up to 90 mins of run-time
Included #
* Shaver
* Foil Guard
* Wall Plug Charger
* Automatic Recharge Stand
* Pre-Shave Brush
* Cleaning Brush
* Operating Instructions
Not Included #
* Wall Plug Adapter (power cord comes with 2 flat pins)
If you have any questions please feel free to contact anytime thank you.
* package has been updated.