1080P DVB-S2 HD Digital Satellite + IPTV Combo TV BOX Receiver USB Dongle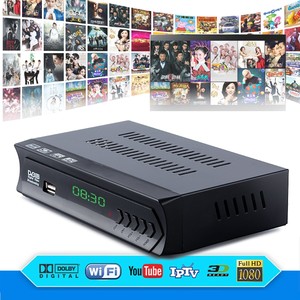 ---
Features: 100% brand new and high quality Full SD/HD DVBS/S2, SD/HD MPEG2 and MPEG4 AVC H.264 SCPC & MCPC receivable from C/Ku band stallites DiSEqC 1.0/1.1/1.2/1.3(usals) supported DiSEqC1.0/DiSEqC1.2 and USALS protocol Electronic program guide(EPG), VBI Teletext, supports up to 64 satellites Up to 2,500 transponders, frequency range: 950--2,150MHz Auto/manual program search, multi-language supported USB2.0 for PVR, Timeshift, Software upgrade, Multimedia Playback Transmission mode: LDCP/BCH(DVB-S2)8PSK/QPSK, DVB-S QPSK Digital reception covers VHF & HUF band 

UK-TOPER

1080P DVB-S2 HD Digital Satellite + IPTV Combo TV BOX Receiver USB Dongle

Features: 100% brand new and high quality Full SD/HD DVBS/S2, SD/HD MPEG2 and MPEG4 AVC H.264 SCPC & MCPC receivable from C/Ku band stallites DiSEqC 1.0/1.1/1.2/1.3(usals) supported DiSEqC1.0/DiSEqC1.2 and USALS protocol Electronic program guide(EPG), VBI Teletext, supports up to 64 satellites Up to 2,500 transponders, frequency range: 950--2,150MHz Auto/manual program search, multi-language supported USB2.0 for PVR, Timeshift, Software upgrade, Multimedia Playback Transmission mode: LDCP/BCH(DVB-S2)8PSK/QPSK, DVB-S QPSK Digital reception covers VHF & HUF band 

Front Panel(Button & Ports): CH+/CH-/VOL+/VOL-/POWER button, and USB port LED display window Power indicator light 

Rear Panel(Multi-Interface): LNB INUSB Port HD Out: connect to the TV using a HDMI cable AUDIO L/R: connect to the TV and outputs audio signals COAXIAL: connects to the TV and outputs digital audio output POWER Interface: DC 12V 1A 

Special Buttons & Functions of the Remote Controllers: Mute the sound of the playing programFAV: Display the favorite program list SUBT: SUBTITLE USB: To play the JEPG or recording fileEPG: Calls up to the EPG(Electronic Program Guide)TV/RADIO: Switch between TV and Radio mode GOTO: BACK TXT: Switch to teletext mode Rec: Press this key to start to record program Four Colored Key(in the bottom of controller): select function teletext mode 

Basic Information: Main Material: ABSItem Size: 167mm x 97mm x 34mm (approx.)Size of Remote Controller: 150mm x 45mm x 20mm Power Supply(For remote controller): powered by 2 AAA batteries (Battery not included)Power Adapter: Input 100-240V AC 50/60Hz / Output: 12V/1APlug Type: EU Plug 

 

Package Includes: 1 x Set top box 1 x Remote controller (battery not included)1 x Power adapter (EU plug)1 x Cable set 1 x English manual 
Item Specifics
Brand :
Unbranded
Type :
HD Digital
UPC :
Does not apply
MPN :
Does not apply
EAN :
Does not apply
Payment

1. Paypal is the only accepted paying method in our store.

2. Buyers are responsible for additional COD charges, VAT, Custom fee and Duty for importation if there are any. Because, our prices are unable to include above fees, as the custom policies are different in every territories. But, we'd like to assist you to receive the goods smoothly if there are anything we can do here. 

Shipping

1. Goods will be shipped out within 1-3 business days after payment arrived us.

If your shipping address is in United States. Then, your goods will be shipped out by the United States Postal Service (USPS), which tracking number will be shown on . And, usually it takes 10-15 days shipping time.

2. Goods will be shipped out by Hong Kong or Singapore Air Mail Service to Outside of the United States as "gift". And we'll provide you the free tracking number if your order value is above USD$30. (Not to Italy, China and Hong Kong)

3. The shipping time to worldwide usually takes 15-45 business days. Please don't make the order if you don't want to wait. Rarely happens delay, but the weather, custom clearance, holidays, political and society situation, etc effect it. 

4. Different Regions:

10-25 business days to US / CA/ UK / AU / NZ

15-35 business days to Europe (Except Italy) / Asia

25-45 business days to South America and rest regions

Returns

1. We guarantee our products against broken or any defective within 30 days of original shipment date.

2. Any items can only be returned after obtaining agreement from us.

3. We will make a replacement with the same item or credit depends on our inventory.

4. Please also write a note to show your item number and user name when you return item for whatever reasons.

5. Buyer will be charged a return shipping fee for the replacement item.

Shipping & Handling fee is non-refundable in any case.

Customer Services

1. You are welcome to send any enquiries to us before / after orders for item features, shipping status, goods condition, operate method, etc.

2. We'll reply you within one working day, and try our best to solve your queries.

3. We appreciate great customer like you. We hope to receive positive feedback and five stars in all the Detailed Seller Ratings from you, if you are satisfied with us and our products. But, if there are any problems on our products. Please contact us first to solve the problem, but not hurry to leave us negative feedback or open / paypal case. We promise you that we'll offer you the best service and goods. 

About US

Soonhua (Shenzhen) Electronic Technology Co., Ltd is the leading wholesaler, exporter and dropshipper of all type of accessories for consumer electronics directly from factories. We believe that the internet further breaks the geographical barrier and pull the factories and the small businesses closer. By combining e-commerce technologies and traditional large volume import/export business model. 

UK-TOPER

DESCRIPTIONPAYMENTSHIPPINGRETURN POLICYCONTACT US
Registered ServiceNEW ItemHot Item

New Toddler Kids Girl&Boy Baby Infant Winter Warm Crochet Knit Hat Beanie Cap
USD 2.69

Military Leather Stainless Steel Quartz Analog Army Men's Quartz Wrist Watches
USD 1.98

Selfie Portable LED Ring Fill Light Camera Photography For IPhone Android Phone
USD 3.29

4pcs Makeup Foundation Sponge Blender Puff Flawless Powder Smooth Beauty
USD 1.87

50 Pieces Stickers Skateboard Sticker Graffiti Laptop Car Luggage Decals mix lot
USD 0.99

New List Item

3Pcs Newborn Toddler Baby Girl Outfit Dress T-Shirt Tops+Long Pants+Headband Set
USD 8.99

WiFi Remote Control Smart LED Bulb 7W E27 RGB Light For echo Alexa Google Home
USD 9.79

Newborn Kids Baby Boy Girl Outfits Clothes Hooded Sweatshirt Tops+Pants 2PCS Set
USD 7.99

Creative Bath Wearable Towel Dress Girls Women Womens Lady Fast Drying Beach Spa
USD 5.99

Travel 2 In 1 Eye Mask Neck Support Sleep Protector Multi-function Soft Pillow
USD 4.78

1080P DVB-S2 HD Digital Satellite + IPTV Combo TV BOX Receiver USB Dongle

Features: 100% brand new and high quality Full SD/HD DVBS/S2, SD/HD MPEG2 and MPEG4 AVC H.264 SCPC & MCPC receivable from C/Ku band stallites DiSEqC 1.0/1.1/1.2/1.3(usals) supported DiSEqC1.0/DiSEqC1.2 and USALS protocol Electronic program guide(EPG), VBI Teletext, supports up to 64 satellites Up to 2,500 transponders, frequency range: 950--2,150MHz Auto/manual program search, multi-language supported USB2.0 for PVR, Timeshift, Software upgrade, Multimedia Playback Transmission mode: LDCP/BCH(DVB-S2)8PSK/QPSK, DVB-S QPSK Digital reception covers VHF & HUF band 

Front Panel(Button & Ports): CH+/CH-/VOL+/VOL-/POWER button, and USB port LED display window Power indicator light 

Rear Panel(Multi-Interface): LNB INUSB Port HD Out: connect to the TV using a HDMI cable AUDIO L/R: connect to the TV and outputs audio signals COAXIAL: connects to the TV and outputs digital audio output POWER Interface: DC 12V 1A 

Special Buttons & Functions of the Remote Controllers: Mute the sound of the playing programFAV: Display the favorite program list SUBT: SUBTITLE USB: To play the JEPG or recording fileEPG: Calls up to the EPG(Electronic Program Guide)TV/RADIO: Switch between TV and Radio mode GOTO: BACK TXT: Switch to teletext mode Rec: Press this key to start to record program Four Colored Key(in the bottom of controller): select function teletext mode 

Basic Information: Main Material: ABSItem Size: 167mm x 97mm x 34mm (approx.)Size of Remote Controller: 150mm x 45mm x 20mm Power Supply(For remote controller): powered by 2 AAA batteries (Battery not included)Power Adapter: Input 100-240V AC 50/60Hz / Output: 12V/1APlug Type: EU Plug 

 

Package Includes: 1 x Set top box 1 x Remote controller (battery not included)1 x Power adapter (EU plug)1 x Cable set 1 x English manual 

Item Specifics
Brand :
Unbranded
Type :
HD Digital
UPC :
Does not apply
MPN :
Does not apply
EAN :
Does not apply

PaymentShippingReturnsCustomer ServicesAbout US

1. Paypal is the only accepted paying method in our store.

2. Buyers are responsible for additional COD charges, VAT, Custom fee and Duty for importation if there are any. Because, our prices are unable to include above fees, as the custom policies are different in every territories. But, we'd like to assist you to receive the goods smoothly if there are anything we can do here. 

1. Goods will be shipped out within 1-3 business days after payment arrived us.

If your shipping address is in United States. Then, your goods will be shipped out by the United States Postal Service (USPS), which tracking number will be shown on . And, usually it takes 10-15 days shipping time.

2. Goods will be shipped out by Hong Kong or Singapore Air Mail Service to Outside of the United States as "gift". And we'll provide you the free tracking number if your order value is above USD$30. (Not to Italy, China and Hong Kong)

3. The shipping time to worldwide usually takes 15-45 business days. Please don't make the order if you don't want to wait. Rarely happens delay, but the weather, custom clearance, holidays, political and society situation, etc effect it. 

4. Different Regions:

10-25 business days to US / CA/ UK / AU / NZ

15-35 business days to Europe (Except Italy) / Asia

25-45 business days to South America and rest regions

1. We guarantee our products against broken or any defective within 30 days of original shipment date.

2. Any items can only be returned after obtaining agreement from us.

3. We will make a replacement with the same item or credit depends on our inventory.

4. Please also write a note to show your item number and user name when you return item for whatever reasons.

5. Buyer will be charged a return shipping fee for the replacement item.

Shipping & Handling fee is non-refundable in any case.

1. You are welcome to send any enquiries to us before / after orders for item features, shipping status, goods condition, operate method, etc.

2. We'll reply you within one working day, and try our best to solve your queries.

3. We appreciate great customer like you. We hope to receive positive feedback and five stars in all the Detailed Seller Ratings from you, if you are satisfied with us and our products. But, if there are any problems on our products. Please contact us first to solve the problem, but not hurry to leave us negative feedback or open / paypal case. We promise you that we'll offer you the best service and goods. 

Soonhua (Shenzhen) Electronic Technology Co., Ltd is the leading wholesaler, exporter and dropshipper of all type of accessories for consumer electronics directly from factories. We believe that the internet further breaks the geographical barrier and pull the factories and the small businesses closer. By combining e-commerce technologies and traditional large volume import/export business model. 
Powered by SoldEazy

On Jan-16-19 at 00:16:36 PST, seller added the following information: